Welcome to Our Practice
Dr. George Thomas and Dr. Jason Lucas welcome you to our family dental practice in Waycross, Georgia. From the very first phone call, our entire team is dedicated to making sure that you always have a comfortable and rewarding experience with us.
Over 40 Years of Happy, Healthy Smiles
Dr. Thomas established his practice in 1969 and Dr. Lucas joined him in practice in 2008. Doctors Thomas and Lucas hold a shared philosophy of caring relationships and a commitment to excellence in dentistry.
Read more About Our Doctors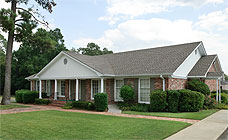 We enjoy seeing patients of all ages, and our team of professionals is trained in helping each person with their dental needs, whether it is just a fun introduction to the dental office for your child, or a helping hand for a loving grandparent.
We are always delighted to meet new patients.
We thank you for your interest in our services and are eager to earn your trust. We invite you to call us with your questions or to make an appointment.