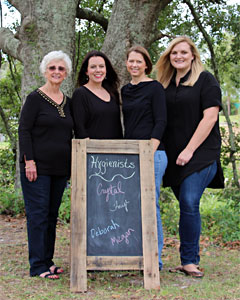 Preventive Dentistry
Maintaining Your Oral Health
Regular visits to the dentist have been proven to help prevent dental decay and periodontal (gum) disease.
Periodontal Disease - Hidden Health Risks: At each checkup visit, we will measure your gums to look for signs of periodontal (gum) disease, an infection that can lead to tooth loss. If detected early, gum disease can be treated non-surgically in our office. Bacterial infection and inflammation associated with periodontal disease has been linked as a risk factor for complications in systemic illnesses such as heart disease and diabetes.
Routine Preventive Care
We recommend that our patients visit our office every 3-6 months for routine cleanings and checkups.
At this visit, we will take necessary digital xrays, and our doctors will perform a thorough dental examination to evaluate the condition of your teeth and jaw joints. Using digital imaging technology, they will review their findings with you on a computer screen.
We may recommend dental sealants and fluoride treatments for your child to prevent dental decay.
Contact Us today to schedule your preventive visit to keep your smile healthy!